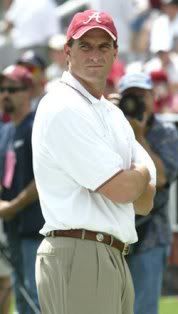 After I finally sobered up from a long weekend, I tried to figure out what I had witnessed this past Saturday night. Most of you know that I have always been a supporter of Mike Shula and what he has accomplished at the Capstone over the last few years. I defended him through the many mini-controversies the bald-headed, nutjob Finebaum is still trying to drum up. I defended him last season after the offense took a nose dive following the Gator-drumming. I defended him for continuing to give Darby a chance after his terrible day at Vandy. I defended him for leaving Tiffin in the game in Arkansas. Saturday night is now my line in the sand.
Could someone please tell me why our offense cannot score on one of the bottom 3 teams in the nation?!?! Can someone explain to me why the defense looked lackluster and carefree when giving up 14 points in the first half to a team who had only scored 13 points in the previous 4 games?!?! How about telling me how we get outrushed by Duke?!?! I am tired of it. Saturday night made me nausious. I am sick of the excuses. We just need to gel. Next year is when we will be really good. Blah Blah Blah. This is it Mike, from a lifetime Alabama to you, Ole Miss is your last shot with me. Finally prove it that we can kick the ass of a team that should never even have a shot at staying in the game. If you can't do it, then it might be time to start looking for new OC's to handle the play calling.
So here is my last straw - I am going to blame myself, and say I am the problem. Here is why. I am throwing out my Freshman year. Dressed in coat and ties, doing nothing but running bourbon infused pepsi products and hot dogs for 4 quarters did not allow me to be a fan. Also Shula did not get on the scene my sophomore year. So Junior season and Senior season a combined record of 10-15, 0-2 against Auburn. I only attended one game inside a stadium last year, and that was in Oxford, MS where a last minute FG salvaged some huge embarrassment, especially to a Memphis resident. The only dominant performance I witnessed at Bryant Denny by Shula and Co. was the drumming of Western Carolina where Croyle was injured. I was a student when Hawaii beat us. I was there when Northern Illinois came in and won. I was in the stands for the La Tech debacle. I sat as a student his past week (laugh it up, but she is good looking) I walked in late and left and the end of the 3rd. This meaning that I missed the FG before I came in and missed the 14 points in the fourth. While I was in the stadium Duke actually scored 14 points and Alabama scored 13.
So this is it Shula, I will blame it all on me. This weekend for the first time since my arrival to the Capstone in 2001, I will sit as an alumni. I am breaking my habit of returning as a student guest(and being able to sit with the previous mentioned good-looking one). So I expect you to break your habit of lackluster performances against shitty teams.
Auburn just got outplayed and outcoached. It was ugly from the start. If you do not fix the lack of offense and inability to stop the run, this season might turn out horribly for the once #2 team in the nation. This however won't be your first fall from grace. My suggestion would be to put a muzzle on your coach during the week. Everytime he starts to pop off, he forgets to actually make a game plan. The fact it happened at home has got to be scary.
Colonel and the rest of the delusional Ole Miss crowd, just because I am somewhat angry at the Tide does not mean I don't have full belief that we can turn it on next weekend and give you the ass-kicking you all have grown so fond of in Bryant-Denny. I hate you are heading to N'awlins instead of Tuscaloosa. I was prepared to show you what college football is really all about.
Lola, how many points do you think Clemson can rack up against the 3A high school squad from Temple??
Off to QB1 at Sleep Outs. I am undefeated this season in the play-calling game. I don't know if thats because I am good or my competition. Other than the Colonel giving the occasional run for the money I would say we play not-so-stellar competition.
Good Tuesday to all. Everyday is one day closer to the weekend.
Here's to all shapes and sizes boys.
Carl