Lets all take a moment and celebrate
DWIGHT SCHRUTE FRIDAY
.
I have taken it upon myself to give this Friday this designation. After another great episode last night, Dwight continues to climb my personal ladder of all time TV character greats. So, we honor you today Dwight.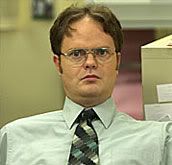 "Let me describe the perfect date: I take her out to a nice dinner. She looks amazing. Some guy tries to hit on her... now he wants to fight - so I grab him - I throw him into the jukebox! Then the other ninja's got a knife, he comes at me, we grapple, I turn his knife on him. Blood on the dance floor. She's scared now. I take her home. I'm holding her in my arms. I reach in for a kiss... I hear something in the leaves, I flip her around, she gets a poison arrow right in her back. She was in on it the whole time... but I knew."
Florida State is dismal at best. Seriously, a loss to NC State?!?! Chuck the Chest might have salvaged his job. Back to back upsets of ranked teams. FSU and Miami will be out of the top 25 Monday morning. Weird. Did anyone see the interview with Amato after the game?? I seriously wonder how damaged this man's throat is. It has to look like ground beef after the abuse he has put it through. Maybe he is trying to make his pitch a little bit higherto prove the theory below.
Now for the
Dr.'s
Weekly picks:
Oregon @ Cal
-4.5
Look for Oregon to stroll into Calli and pull off the upset in the ugliest fashion. Not play but uniforms.
West Virginia @ Miss St. +21.5
Mountaineers easily cover this spread and Croom continues his transition into looking like an actual bum
Arky @ Auburn -15.5
Arky shows up in style. Runs all over the Auburn D. After the win Nutt actually goes insane. They drop him off at Brice on the way back to Arghhh-Kansas.
Duke @ Alabama -29
Since I will be returning for the first time the season, the team will want to show out for one of its most beloved alums. Look for Bama to cover this line. UL Monroe could beat Duke, and Bama put up 41 points on them.
Tennessee @ Georgia +2.5
I would steer clear of this game. I think it could honestly go either way. So, I will flip a coin. Heads-UGA, Tails-UT. Heads it is Georgia wins.
LSU @ Florida -1.5
I am in agreeance with the DFF brotherhood. Leak will shat his pants. I am going LSU by 14 in the swamp. Tebow actually cries after this one. Sissy.
The Dr.'s Weekly Upset Special
South Carolina @ Kentucky +5
I think Kentucky can take them at home. I know this is a stretch, but I am ballsy.
I will be on the road to Tuscaloosa around lunch. To all, a good weekend. Drink a cold one on me, because believe me, I will take one out for you.
Welcome to Colonel R, a fellow Memphis downtowner and Ole Miss grad, you are brave.
Until next week........Roll Tide
Signing off
Doctah Feelgood a.k.a. Carl Montgomery