Daily Football Fix
It was my understanding that I had the reins to the blog from Thursday through the weekend. I felt like a letdown when the internet was down in the cubicle I call a home. As I checked in today, not so. It seems as the King snuck in many a posts before his exit to the sugary sands of South Beach. So, ladies, I do not feel as though I let you down.
Lola, what a glorious call on UCF. They could have blown Marshall off the field if they had capitalized in certain situations. So here's to you Mr. O'Leary for reversing the bad karma that has haunted my bets for the past 2 weeks.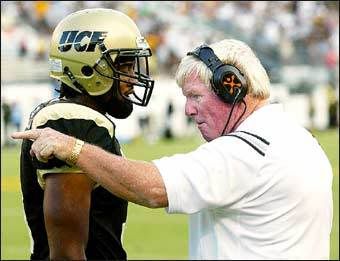 Not a shabby weekend approaching in SEC football. Even though my beloved Tide takes on a very lackluster Duke squad, I will be in attendance for the first time this season. Hope we can stay out of foul trouble. Arky @ Auburn, Florida - LSU, UT-UGA, and favored Vandy @ Ole Siss. Picks coming tomorrow.
Lost my cell phone in an accidental evening. I will be available only via internet this Thursday. Wish me luck, I think I know where it might be. We may very soon have Ole Siss representation. You can't fight it any longer, the blog is exploding. Clemson and Ole Miss are now part of the DFF brotherhood. Ladies, hope you enjoyed the virgin post from the Dr. Until next time, stay classy San Diego.
Last but not least, a vixen on a Harley