I arrived into the Capstone around mid-afternoon Friday and realized that their was something quite different going on. As I drove down University Blvd., you could see RV's lined up in the usual spots. This time it was RV-ers in the middle of April, not the lunatic fans who stay from Wed. to Mon. during the fall. Restaurants and bars were packed with people at 3 p.m.
After a good meal and some drinks/shots at Catch-22, we decided to call it a night early to ease the hangover for Saturday and the game.
Saturday came with a slight headache and an amazing spread for breakfast (Thanks to Candice, the hostess) I was really surprised how many people my age had made the trek into town. Around 11:30 a.m., my mother called to say she was saving us seats and we probably needed to hurry because the stadium was already crowded and looking like it was filling up rather fast. I thought she was slightly exaggerating the conditions.
As soon as we left the condo, I realized she was right. Traffic was backed up on University from campus to McFarland and at a standstill. People were everywhere. We found a close parking spot and decided to walk across campus instead of fighting traffic. It looked like a gameday. Tents all over the quad with smoke rising from grills. People everywhere wearing red shirts and walking with solo cups.
When I personally got into the stadium the bottom bowl level was just about completely filled up. Shortly after the start of the scrimmage/practice they announced they were opening the East side upper deck. As you all know now, and after the fire marshal stopped allowing people to enter, the number was 92,138 people. Barner fans even have to admit it was something very impressive.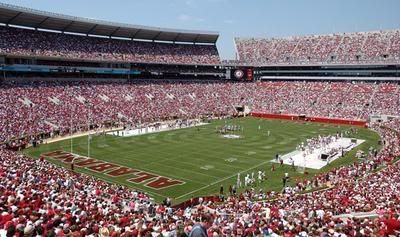 Now the game itself was very bland. No huge plays, No turnovers, two penalties. Saban did the running clock scrimmage to where the clock rarely stops. However, the energy from the crowd and
the turnout is what sent the message this past Saturday
.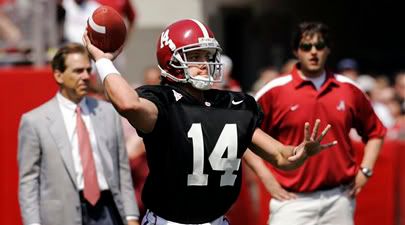 Say what you want about Saban. Take guesses at how many games Bama will win this year, and then act like you personally know that Alabama fans will hate him or run him out of town next year, but the bottomline is things have changed in Tuscaloosa. There is a new postive feeling. The fans are behind the team again. The players believe, and the players see that the fans are still behind them. Can you imagine what went through the heads of the recruits Saturday afternoon? It might not happen immediately, but the wheels are in motion. Its coming.