After months of discussion between brothers Churchill and Montgomery, we have ultimately decided to go forward and share the recipes we love on gamedays. Involve your mothers and wives, because we all know they do it right. These recipes need to be either very tasty or unique, nothing half ass on the table. So, send recipes via email or post to the blog. From appetizers to tasty cocktail concotions, we will try to have a complete cookbook by football season. That way the 2007 season can pair the wonderful flavors of bourbon and freshly cut fall grass with the treats we all love to consume in a drunken stupor.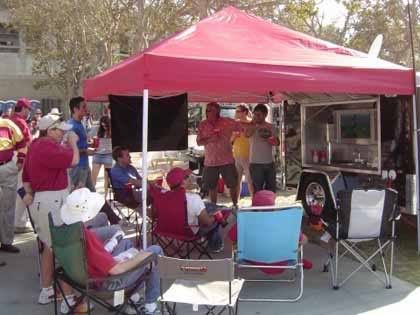 Very neutral tailgating pic.
It took me quite sometime to figure out what would be a good start to the tailgate recipes. Wilbur is currently checking out some BBQ sauces, so I figured I would stray away from BBQ, and I guess it would be entirely to typical if the Memphis guy started with BBQ. So, since I am currently under attack again by the glorious spicy taste of chicken wings, which happens once every two months, and I just can't eat enough hot wings, I will start with this recipe that was introduced to me at a tailgate this past season. This was brought to my attention by a few of the lovely ladies that took up alot of my time in Tuscaloosa. It seems they are steadily turning into quite the young homemakers. Keep up the good work ladies.
Chicken Wing Dip
1 Rotisserie Chicken [pick one of the larger ones]
1 bottle wing sauce [brand is your choice]
8 oz. cream cheese
1 small bottle of Ranch [Hidden Valley is the best, and you know it]
1 small package shredded cheddar cheese
Shred chicken and remove from bones. Set aside. Layer cream cheese in the bottom of a casserole dish, put chicken on top. Dump the bottle of wing sauce over the chicken and cream cheese. Ranch is next, poured evenly over the other three. Finally sprinkle cheese on top. Bake at 350 for 25 minutes. Serve the gooey goodness with tortilla chips and celery, or hell, any damn thing you want to dip in it will be tasty.
Beer accompaniment: For early season, Sam Adams Summer Ale
For late season, Yazoo Dos Perros
Liquor accompaniment: For some reason the thought of bourbon and hot wings
can turn a sober stomach sour, I suggest a lighter liquor
Gin or Vodka with a tonic or soda, your choice
If for some reason it is a tough morning, go with a Vodka and
Red Bull